As an Illustrator, Graphic Designer and Animator Alfred De Angelo is in a class by himself.
He has had many years of experience designing elements for Print, Video & the Web, and can be your one source to create all your Graphic/Illustration material for every media.
He will work with you from concept to completion, combining his unique graphic sensibility with his master-level ability to illustrate, guaranteeing that you will end up with a unique, dynamic, visual presentation.
Alfred has created illustrations, storyboards, graphics and animations for companies in virtually every field;
Some of the clients Alfred has worked with:
WGBH's "Nova" and "The American Experience", NESN and the Boston Red Sox, The Baltimore Aquarium, the Boston Globe, Consumer Reports, The Discovery Channel, Farm Aid, The Federal Reserve Bank of Atlanta, The Hershey Story Museum, The Hoover Dam Museum, National Grid, The Newark Fire Museum, The New England Aquarium, New Hampshire Seacoast Science Center, The National Fire Protection Association (NFPA), The Philadelphia Zoo, the Tasty Baking Co./TastyKake, and Tom Rush, among others.
Alfred looks forward to speaking with you about what you need to promote your company's products and services. 
Please feel free to contact him with any Graphics or Design questions. He will do his best to help you or point you to someone who can.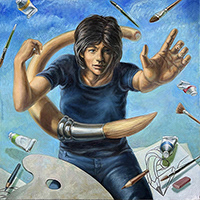 Link to Alfred De Angelo's Fine Art/Painting Website